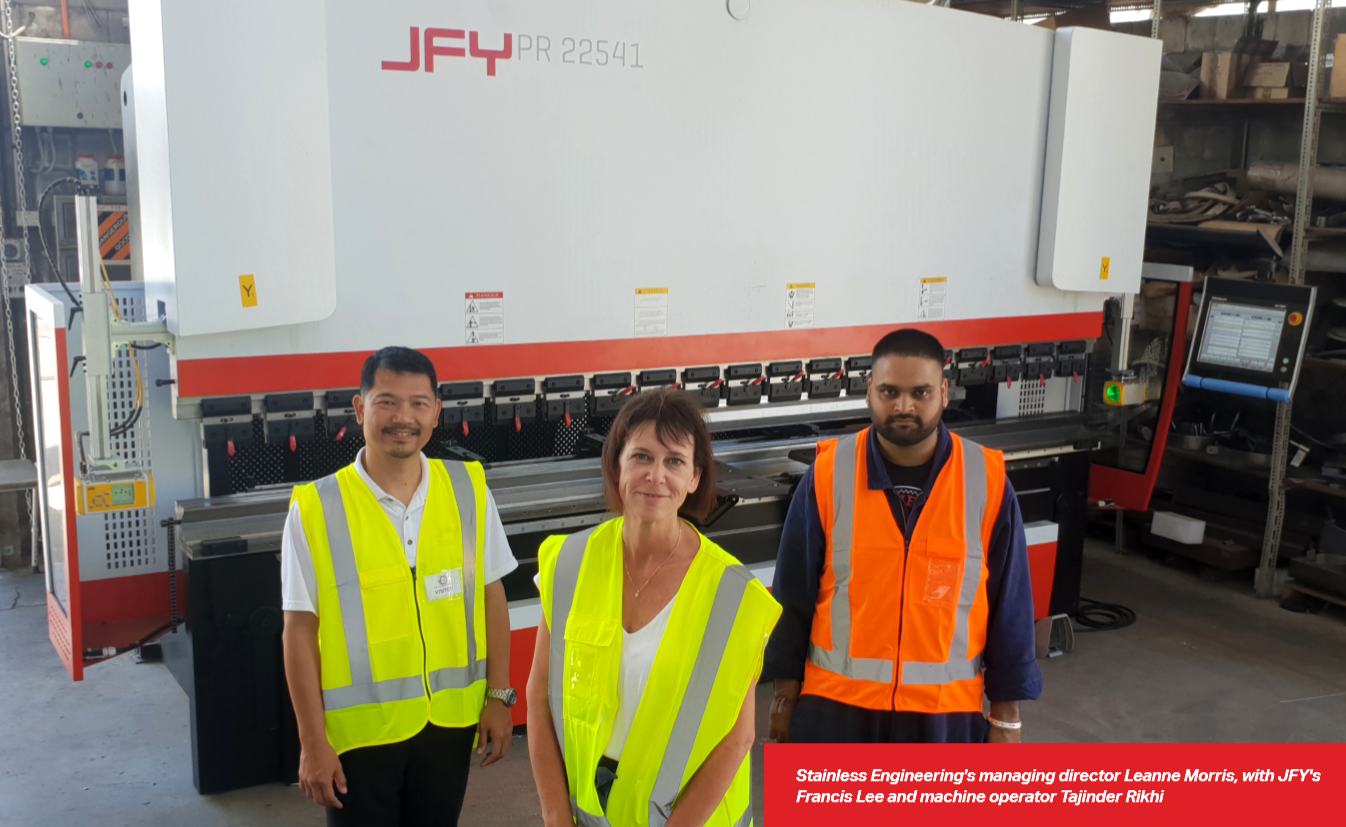 Stainless Engineering + JFY: Forging partnerships to future prosperity
What do you do if your engineering business has been around 40 years – but you want to ensure you're around for another 40? You analyse your business infrastructure, and invest in your future.
Formed in 1976, that's exactly the position Auckland-based Stainless Engineering found themselves in. The company's managing director Leanne Morris, along with key staff, looked at what they needed to future-proof the company and improve upon current capabilities.
Enter JFY and a new TFC-3015S (3kW) CNC laser cutting machine. The unit was installed in October last year and features a Trumpf TruDisk laser generator, good stability and high cutting speed, high-efficiency anti-reflection function and the ability to cut high-reflection material. Add to that a positioning speed of 169 m/ min – due to a direct servo motor with high torque – and acceleration of up to 2g through adaptive lightweight structure. Ease of use is ticked off too thanks to a detailed cutting database system.
"JFY and national sales manager Francis Lee have assisted immensely in the set up of the unit and also in helping the operator get the most out of it," says Leanne, who took over the role of managing director of the stainless steel fabrication company from co-founder Geoffrey Morris.
WHY JFY? Fundamentally, says Leanne, the local support that came with the purchase of the machine was a major factor in the purchasing decision of the brand. "Secondly, the laser cutter's size and capabilities of the machine was a match for what we not only wanted, but also needed." Selecting the machine was a long process.
"We didn't have a laser cutter so whatever we did next we wanted to make sure it was the right thing for us to do long term and future-proof the company," she adds. There was lots of deliberation and risk assessments associated with the hefty investment, "because we had to look at the whole package. If we were going to invest that sort of money we had to make sure it was the right thing to do for the business for the next decade". The final factor was the need to change the current business model, with the new machine ticking all the 'spec' boxes for the future. "We had always outsourced. And that's worked fantastic for us over the years… but it came down to we are stainless steel fabricators and this is fundamental to our process."
Now, not relying on others for such jobbing, the company can react really quickly. Bringing that additional supply channel within the company means we can now meet a wider range of needs in engineering and timeframes."
The laser cutter has the brawn for the workload that Stainless Engineering intends to throw at it. It has a max output of 3000W. Cutting widths give the user plenty of versatility with 0.5mm20mm in carbon steel and 0.5-14mm in stainless steel, all backed by a cutting accuracy of plus or minus 0.1mm/m. Stroke is impressive – 3000mm, 1500mm, and 120mm (X,Y,Z) – while it has a worktable loading weight of up to 900Kg.
"We're now a one-stop stainless steel shop," adds Leanne, thanks to the new JFY machine, which sits not far from the new JFY PR22541 press brake. The PR Series of press brake can precisely and cost-effectively produce simple or complex parts in any format. But as well as excellent part quality, you also get increased flexibility, innovative tools, and intelligent software – all from a single source.
Francis says that helping out Kiwi firms such as Stainless Engineering is "incredibly satisfying", highlighting that JFY offers much more than just machines. "With production batches getting smaller all the time, JFY has invested heavily in research and development to provide world-leading methods of manufacturing and production," says Francis. "JFY has systematically developed and purchased expertise in all fields of technology in the machines so when you have a problem or need an answer you only have one supplier to deal with. Add to that lower running costs and a total commitment to JFY's machines and technology being as productive as possible, and the choice to choose JFY is simple."
That's what Stainless Engineering did… and now they are set for the next 40 years of Kiwis doing business the right way.
This article appeared in Engineering News .